Discover the convenience of comprehensive RV awning services, right at your doorstep! At RV-911, we pride ourselves on being your trusted mobile RV technicians, offering top-notch awning maintenance, repair, and replacement services to keep your RV adventures hassle-free.
Our Services:
Maintenance: Proper awning maintenance is the key to longevity and optimal performance. Our skilled technicians provide thorough inspections, cleaning, and lubrication to ensure your RV awning operates smoothly. Regular maintenance not only extends the lifespan of your awning but also enhances your overall camping experience.
Repair: Accidents happen, and wear and tear are inevitable. Whether it's a torn fabric, malfunctioning arms, or damaged components, our mobile RV techs are equipped to handle a wide range of awning repairs. We understand the urgency of getting you back on the road, and our prompt, on-site services are designed to minimize downtime.
Replacement: When it's time for a new awning, our experts can guide you through the process of selecting the perfect replacement. We offer a variety of awning styles, colors, and materials to suit your preferences and budget. Our mobile service ensures a seamless installation, right where you are.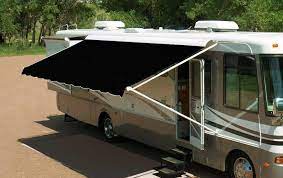 Why Choose Mobile RV Awning Services:
Convenience: Say goodbye to the hassle of transporting your RV to a service center. Our mobile technicians bring the expertise and tools to your location, saving you time and effort. Whether you're at a campground, RV park, or your own driveway, we come to you.
Expertise On the Go: Our team of skilled and experienced RV technicians are well-versed in all aspects of awning maintenance, repair, and replacement. With years of experience in the industry, we understand the unique needs of RV owners and are committed to delivering top-tier services.
Transparent Pricing: We believe in transparent and fair pricing. Before any work begins, our technicians provide a detailed estimate, so you know exactly what to expect. No hidden fees, no surprises – just reliable service you can trust.
Customer Satisfaction Guaranteed: Your satisfaction is our priority. We take pride in our work and strive to exceed your expectations. From the moment you contact us to the completion of the job, we are dedicated to ensuring your experience with Mobile RV Awning Services is nothing short of excellent.
Contact Us Today:
Ready to elevate your RV awning experience? Schedule your maintenance, repair, or replacement service with RV-911. Simply give us a call or fill out our online form, and our mobile team will be on their way to provide the expert care your RV deserves. Wherever the road takes you, we've got your awning needs covered!